St. Agustine Feast: A Celebration of life, religion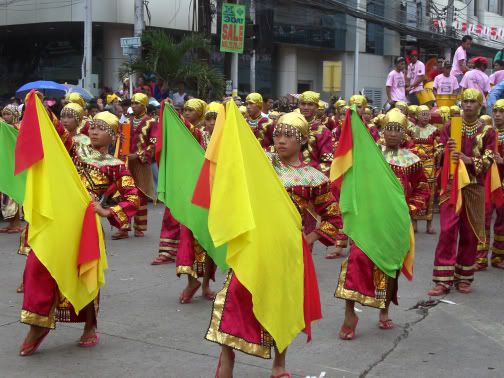 A Kagay-an Festival Sayaw-Sayaw (Mardigras) contingent.
Photo
by Joey P. Nacalaban.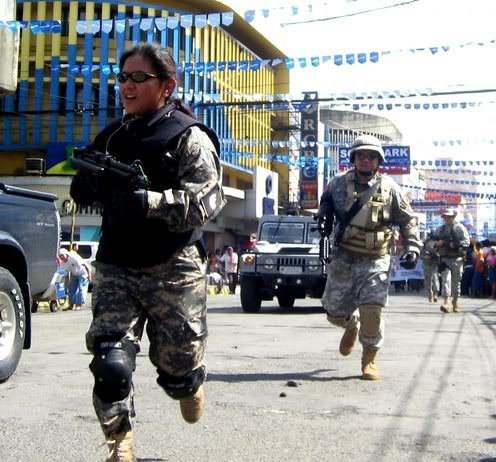 No, Army they're not. They are Airsoft (mock war games) enthusiasts
joining for the first time in the civic parade this year.
Photo by Joey P. Nacalaban.
A fiesta is not complete without the Carnival...and the Ferries Wheel!
Photo by Joey P. Nacalaban.

THERE was a time when Kagay-anons blackball politics, set-aside life's complexities and for a moment pause for a blissful lull to celebrate their spirituality and unique cultural identity. That time happily comes once a year--in the Fiesta de Oro where life and religion is celebrated in a festive, golden pageantry.

For all-too-busy locals, Fiesta de Oro is a stress-relieving fusion of indigenous, religious and pop-culture fanfare. The streets adorned with colorful fiesta banners, the night lights up into a madhouse of fun. An assortment of local performances dot the city's busy avenues. Movie stars stir- up entertainment spots. But how does this year's fiesta differ from the previous ones? For the first time, Cagayan de Oro's fiesta goes global, says Councilor Jose Benjamin Benaldo, fiesta committee chairman. Media-driven and tourism centered approaches take this year's celebration into new heights, he beams.


City Tourism Officer-designate Ima Rae Gatuslao could't agree more. Fresh from spearheading the inauguration of the city's first tourism center, Gatuslao underscores the role that Fiesta de Oro plays in selling the city's tourist destinations to the world. Among the tourist spots the city can boast of are: Pueblo de Oro Gold Course and Country Park, Mapawa Nature Park, Gardens of Malasag Eco-tourism village, Macahambus Adventure Park, Kagay-an Resort, White Water Rafting and River Cruise.


Some of these enthralling spots are host to the fiesta's major activities, thus promoting them on-the-spot while giving a particular event added elegance.Gatuslao hopes the new tourism center--suitably located at the heart of the bustling Divisoria area--would intensify tourism prospects and interest in Cagayan de Oro.


And while not condemning the exuberant atmosphere usually accompanying the celebration of the fiesta, Archdiocese vicar-general Fr. Rey Monsanto reminded city residents and visitors especially the Catholic faithful to always remember the spiritual significance of the activity."

First and foremost it is a celebration for the search for truth and meaning in one's own life as embraced by the words of the city's patron St. Augustine who said 'our hearts are made by you O God and our hearts are restless until they rest in You," he said.While Cagayan de Oro Chamber of Commerce and Industry Foundation Inc. President Ruben Vegafria exhorted the city government to give the private sector a chance to spearhead next year's festivities.And as the annual fiesta continue to soar to new horizons, with improved content, global reach and added attractions, Benaldo and Gatuslao hope Fiesta de Oro would prove to continue its role as the launching pad for Cagayan de Oro's tourism industry.
(With Stephen Capillas, EIC, Sun.Star CDO).