Tourism coed crowned Miss CdeO 2006
And the winner is...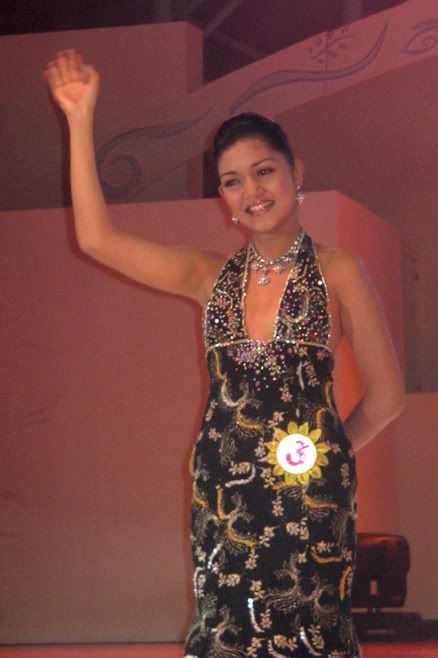 Finally...the Queen.

Kathrina, still looking stunned, is flanked by Cagayan de Oro officials.

Fifteen ravishing candidates. 11 judges. Hundreds of anxious spectators. But the night belongs only to 21 year-old Kathrina Manansala, crowned Miss Cagayan de Oro 2006 in the jam-packed Limketkai Atrium Thursday evening.

Kathrina, pageant candidate number 3, representing Barangay Canitoan, grabbed the spotlight from the other 14 candidates with her dashing look, graceful elegance and impressive speech power.

Kaye, as she is known to friends, nailed it in the Q & A, retorting in the standard sagacity beauty queens the world over are known for.

"In terms of security, Cagayan de Oro has no problems. In terms of economy, Cagayan de oro is fast-moving and catching up with the changing world. Cagayan de oro is a very wonderful place with welcoming people. Come and invest here," she returned effortlessly in a flawless accent, when asked how she would sell Cagayan de Oro to foreign investors.

That she pulled that one off was hardly a stroke of luck; she likes to talk about places, travel and tourism--being a senior Tourism coed at the Liceo de Cagayan de Oro. She was born with the stage ready for the taking, having been a beauty titlist herself in that school. She dreams of becoming a flight attendant for an international carrier in the near future. She already had her on-the-job training in Singapore early this year.

As a part-time Tour Specialist in a local travel agency, Kathrina says she juggles from school-to-work on everyday basis. Balanced priorities enable her to enjoy the young blood fun while taking up to life's responsibilites, she says.

Aware that her crown carries with it social obligations, she says she plans to organize a women's club whose main task is to protect the Cagayan de Oro river. The river, she avers, is part of the city life being the site of several major tourist attractions--notably the riverside floating restaurants.

Meanwhile, Darling of the Press Jedyl Jamaca was crowned first runner-up, bagging the title Miss Tourism. Twenty-four year-old Wendie Olape who earlier won the Best in Swimsuit award captured the third spot, earning her the title "Musa sa Barangay." She also won the best in Long Gown award.

Twenty year-old Maria Melody Nadal who took home the Miss Photogenic and Best in Short Formal Attire awards landed in the fourth place, earning the title "Musa sa Panaghiusa." She also secured the Texters' Choice award. "Musa sa Kalinaw" was given to 22 year-old Irish Azcuna who was also declared Miss Congeniality. All winners received cash prizes, with the Miss CdeO 2006 grand winner getting the lion share of P50,000.